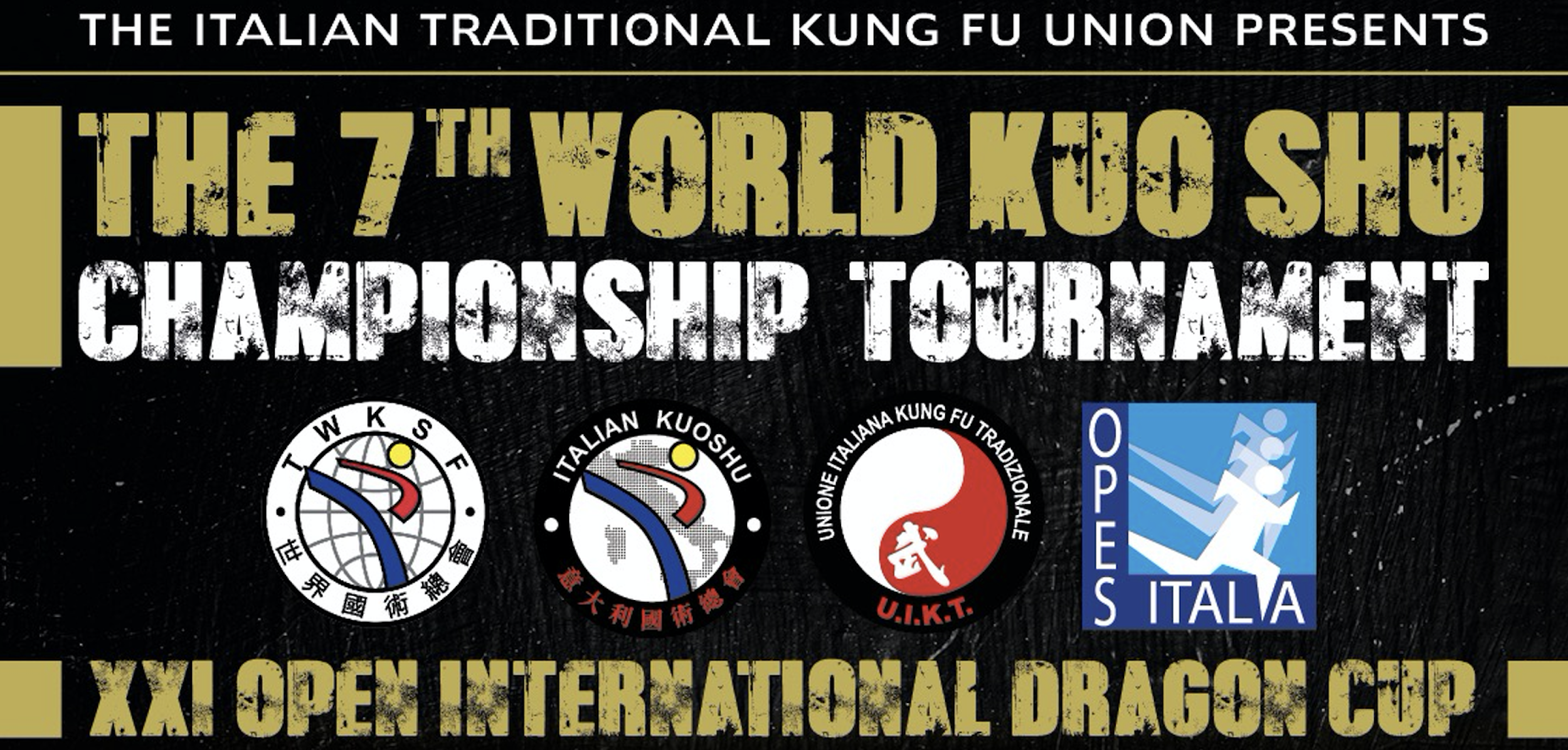 The 7th World Kuo Shu Championship Tournament was held in Rome, Italy on May 13th-15th, 2022.
The World Kuo Shu Federation's 7 th World Tournament was held May 13-15, 2022, in Rome, Italy. Hosted by the Italian Traditional Kung Fu Union, the site of the tournament was Cinecittà World, a movie-based theme park that is also the oldest and largest film production studio in Italy. Cinecittà World boasts a rich history of filmmaking as the site was originally owned by the acclaimed director Dino De Laurentiis and was home to the filming of iconic movies such as Ben Hur.
Despite challenges brought on by COVID-19 restrictions and the war in the Ukraine, TWKSF was still able to gather traditional Chinese martial arts competitors from around the world to engage in a thrilling three-day event.
Festivities commenced on Friday, May 13, with a banquet to welcome team members, coaches, and officials. New member nations received their official TWKSF member certificates, with representatives from Bangladesh, Iran, and Mexico present. Several other long-time member nations, including Brazil and Germany, were recognized for renewing their memberships. Gifts of welcome and camaraderie were exchanged among various team members, officials, and the tournament hosts.
The competition began with a parade of nations on the morning of Saturday, May 14. Team members, led by their nation's flag bearers, filled the arena with representatives from Bangladesh, Brazil, France, Germany, Iran, Italy, Japan, Mexico, Spain, Switzerland, and the United States of America. The tournament host, Master Alessandro Colonnese, welcomed everyone in attendance before inviting TWKSF President Grandmaster Steve L. Martin to extend his official greetings of behalf of TWKSF Chairman Grandmaster Huang, Chien-Liang. After introducing tournament officials and TWKSF referees, competition began in multiple rings.
Competition events consisted of internal and external forms, weapons, two-person sets, weapons sparring, and Lei Tai fighting. Over a two-day period, Team USA proved to be dominant, winning first-place in 30 of 42 form divisions and 7 of 9 Lei Tai divisions. The U.S. team also swept all 4 weapons sparring divisions. Fielding the largest team at the competition, Team Italy took first in both the male and female Yang style Tai Ji Quan form divisions. The German team made a strong showing in the youth divisions for ages 13-15, winning first in southern forms, other weapons, long staff, and empty-hand two-person sets. At the end of the two days of competition, the United States captured the overall championship, bringing home the coveted Huang, Chien-Liang cup, named in honor of the TWKSF founder and chairman. Team Italy finished in second place, followed by Team France.
The World Kuo Shu Federation
The World Kuo Shu Federation P. O. Box 927 Reisterstown, Maryland 21136 USA